Arts in the Park
Arts in the Park returns May 24, 2023 at Hubbard Park!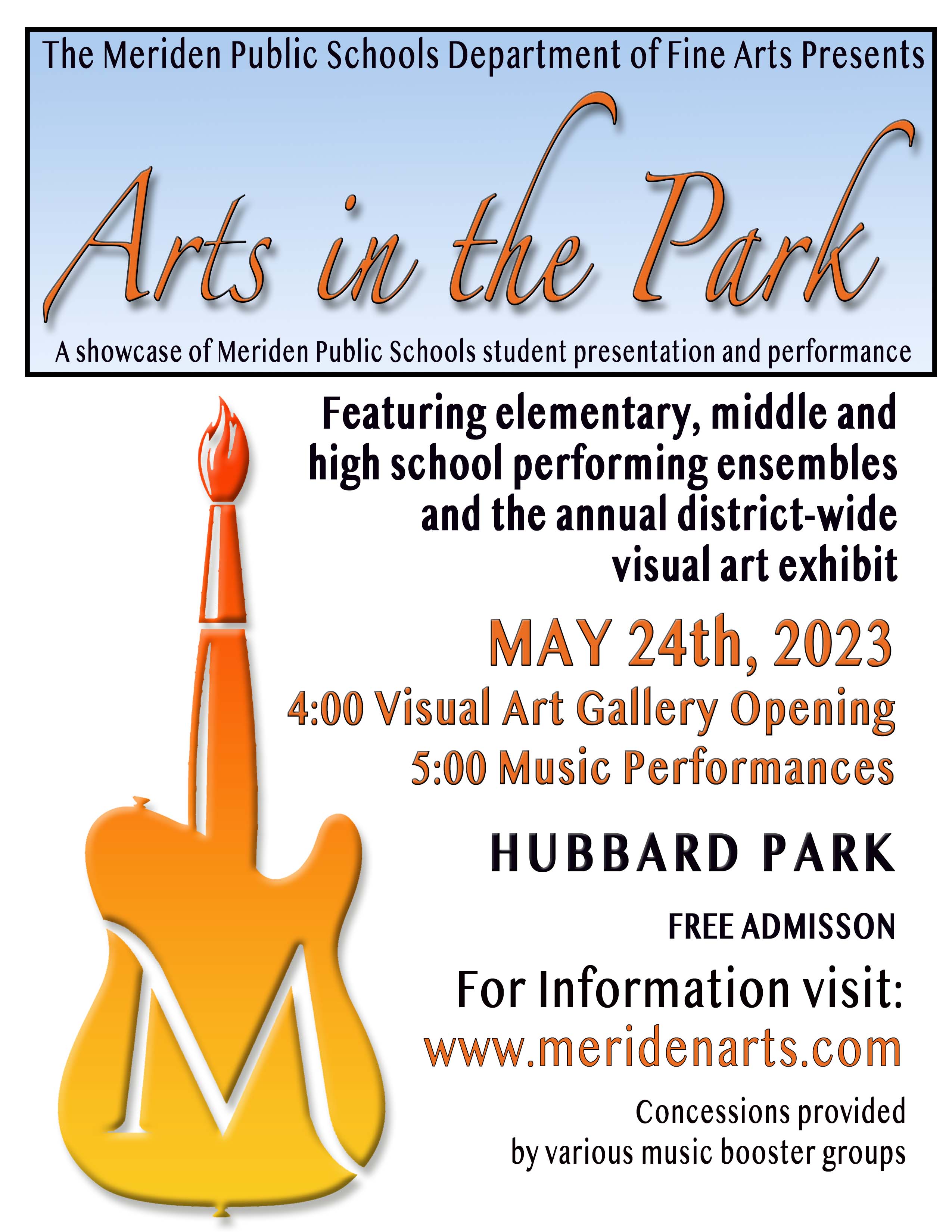 Arts in the Park is our annual celebration of Meriden Public Schools Music and Visual Art. The event takes places in May at Meriden's Hubbard Park.
Join us as we celebrate the arts in our schools with a huge showcase of visual art under the tent starting at 4:00pm.
Music begins at 5:00pm on two stages around the bandshell area, featuring ensembles from all MPS schools.
This is a free event and is open to everyone!
Concessions will be available for purchase
Please bring your own lawn chair or blanket and relax on the lawn!
| | | |
| --- | --- | --- |
| Perform | Stage | Group |
| 5:00 | SHELL | Edison Concert Band |
| 5:07 | PAD | Ben Franklin Chorus |
| 5:14 | SHELL | District-Wide Secondary Strings |
| 5:21 | PAD | Concert Choir |
| 5:28 | SHELL | Elementary City Wide Band |
| 5:35 | SIDE STAGE | Israel Putnam Choir |
| 5:42 | PAD | Edison Sound |
| 5:49 | PAD | Chamber Singers with Edison |
| 5:56 | SHELL | Nathan Hale Band |
| 6:03 | SIDE STAGE | Sherman Rock Stars |
| 6:10 | PAD | 6, 7, 8 Grade Chorus |
| 6:17 | PAD | Hanover Theater |
| 6:24 | SHELL | WMS Wind Ensemble |
| 6:31 | SIDE STAGE | Falsettos |
| 6:38 | PAD | Mega Recorder |
| 6:45 | PAD | Edison Theater |
| 6:52 | SHELL | Maloney, WMS, EMS Chamber Orchestras, Elementary Strings |
| 6:59 | SHELL | Platt Concert Band |
| 7:06 | PAD | Roger Sherman and Benjamin Franklin Choirs |
| 7:13 | SHELL | Maloney Concert Band |
| 7:20 | SIDE STAGE | Lincoln/Platt Jazz |
| 7:27 | PAD | WMS Show Choir & Crescendos |
| 7:34 | PAD | Chamber Singers with Washington |
| 7:41 | SHELL | Washington/Edison/Maloney Chamber Orchestra Ensembles |
| 7:48 | SIDE STAGE | Jazz Ensemble |
| 7:55 | SHELL | EMS Orchestra |
| 8:02 | PAD | Platt Pentangle Players |
| 8:09 | PAD | Disrict Secondary Choir |